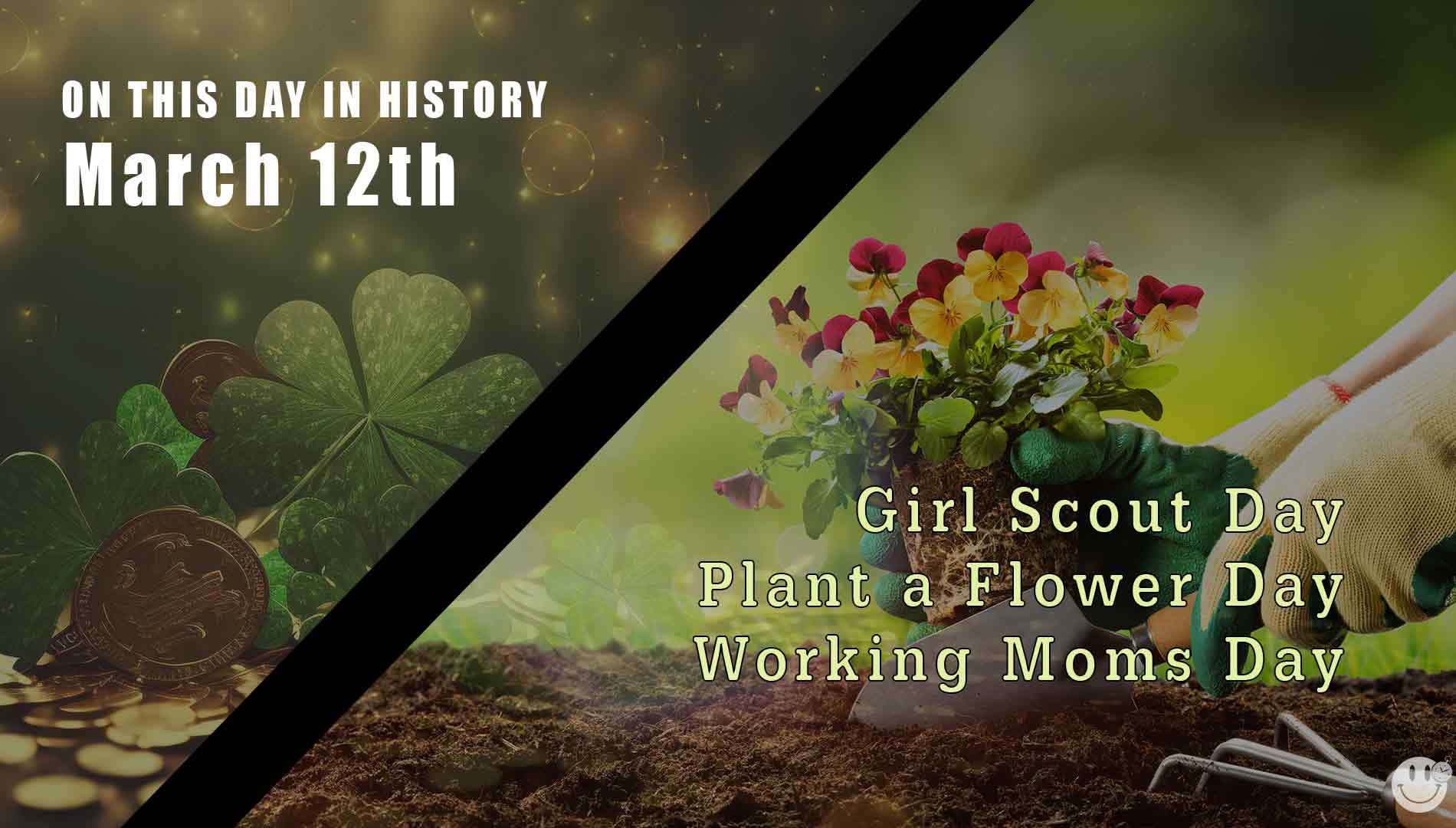 March 12 in Pop Culture History
March 12th is…
World Day Against Cyber Censorship
Alfred Hitchcock Day
Baked Scallops Day
Girl Scout Day
Plant a Flower Day
Day of the Working Mom
1894 – Coca-Cola bottles were sold to the public for the first time in Vicksburg, Mississippi.
1912 – The Girl Guides (later renamed the Girl Scouts of the USA) were founded in The United States.
1923 – Phonofilm, the first motion picture with a sound-on-film track, was demonstrated at a press conference by Dr. Lee De Forest, who was also the inventor of the radio tube in 1907.
1928 – St. Francis Dam collapsed in San Francisquito Canyon, California
1933 – New resident Franklin D. Roosevelt gave his first national radio address or "fireside chat,&#8221From the White House
1951 – Two entirely different comic strips appeared called "Dennis The Menace&#8221Dennis UK is now Dennis and Gnasher. Neither author was aware of the other's existence.
1951 -Eric Morley organised a bikini contest at the Festival of Britain. The contest was meant to encourage the newly introduced bikini. It was widely considered immodest. The annual celebration was then called the Miss World Competition.
1951 – The first sex change operation was performed in Denmark. George William Jorgensen Jr. became Christine Jorgensen.
1951 – The Explorers Club in NYC hosted an evening featuring meat from a woolly Mammoth.
1987 – Les Miserables (Broadway Musical). Opened March 12Closing on May 18, 2003
1988 – #1 Hit March 12, 1988 – March 25, 1988: Rick Astley – Never Gonna Give You Up
1993 – '93 Superstorm stretched from the Gulf of Mexico to the northeastern US. 318 persons were killed.
1994 – #1 Hit March 12, 1994 – April 8, 1994: Ace Of Base – Sign
1994 – The Church of England ordained its first female priests.
1999 – Former Warsaw Pact members, zech Republic, Hungary, and Poland joined NATO (North Atlantic Treaty Organization).
2003 – Bend It Like Beckham debuted in theaters.
2003 – 15-year-old Elizabeth Smart was found in Sandy, Utah nine months after she was abducted from Salt Lake City.
2003 – The Dixie Chicks' lead singer, Natalie Maines, said, in An interview with The Guardian "Just so you know, we're on the good side with y'all. We do not want this war, this violence. And we're ashamed the President of the United States is from Texas.&#8221Many of their supporters revolted.
2004 – Destination London – Agent Cody Banks 2 And NASCAR 3D: The IMAX Experience debuted in theaters.
2008 – Hulu opened online.
2012 – John Carter debuted in theaters.
#1 Hit March 12, 2022 – April 15, 2022: Heat Waves – Glass Animals