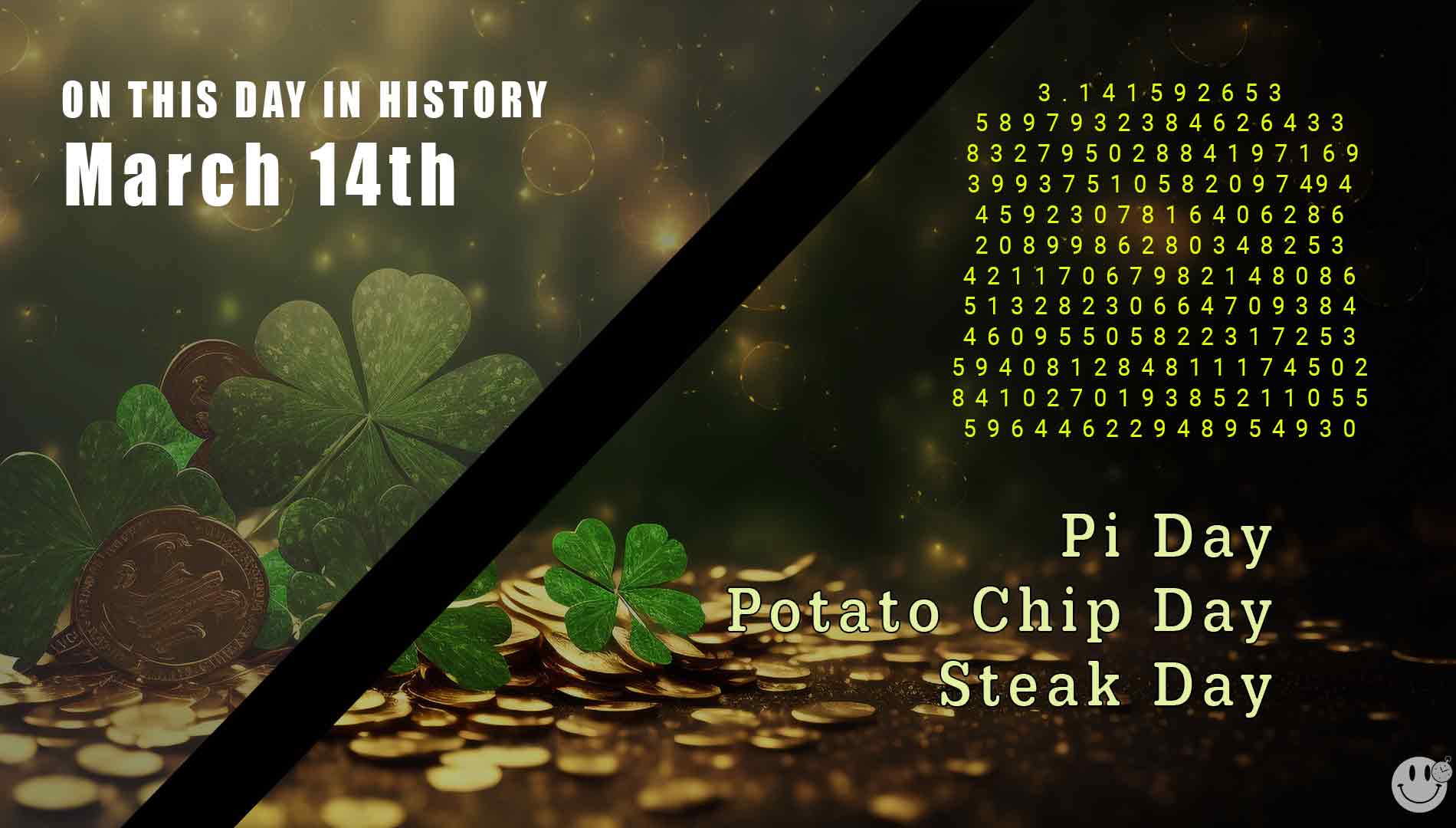 March 14 in Pop Culture History
March 14th is…
Day to Ask Questions
Celebrate Scientists Day
Children's Craft Day
Crowdfunding Day
Genius Day
Butterflies Day – Learn more
Moth-er Day
National Pi Day
Potato Chip Day
Steak Day
National Write Down Your Story Day
(*14*)44 BC – Casca and Cassius decided that Mark Antony should stay alive during the Caesar assassination the next day.

(*14*)1794 – Eli Whitney was issued a US Patent (#X0072) for his cotton gin.

(*14*)1839 – Sir John Herschel referred to 'photography'- his new word – in A lecture for the Royal Society

(*14*)1899 – Count Ferdinand von Zeppelin was issued a US Patent (#621,195) for the invention of his "Navigable Balloon,&#8221The Zeppelin is a rigid airship.

(*14*)1900 – The Gold Standard Act is ratified, placing United States currency on the gold standard. Today, it isn't used by any other country.

(*14*)1936 – The first all-sound film version of Show Boat Radio City Music Hall opened the doors.

(*14*)1947 – The US signed a 99-year lease on naval bases in The Philippines

(*14*)1950 – The Federal Bureau of Investigation instituted the "Ten Most Wanted Fugitives&#8221Liste (List)

(*14*)1951 -UPI photographer Arthur Sasse asked Albert Einstein to smile, but instead, he stuck his tongue out, hence we have the famous photo.

1958 – The Recording Industry Association of America awarded Perry Como the first Gold Record (500,000 sold) for Falling Star Catching.
(*14*)1975 – The Same Time Next Year (Broadway Play). Opened on March 141977 and closed: September 3, 1978
(*14*)1987 – #1 Hit March 14, 1987 – March 20, 1987: Huey Lewis and the News – Jacob's Ladder
(*14*)1998 – #1 Hit March 14, 1998 – April 3, 1998: Will Smith – Gettin' Jiggy Wit It
(*14*)2011 – Aflac Insurance fired Gilbert Gottfried, the voice of the Aflac Spokesduck, for an offensive online tweet about the Japan earthquake.